INSTANT Prepaid Services by Simplex Solutions (Pty) Ltd
We aim to satisfy our clients and making it easy for every Zimbo residing in S.A. to support their families and friends back home in Zimbabwe. We sell *Zesa Prepaid Tokens, Direct Recharge Airtime
---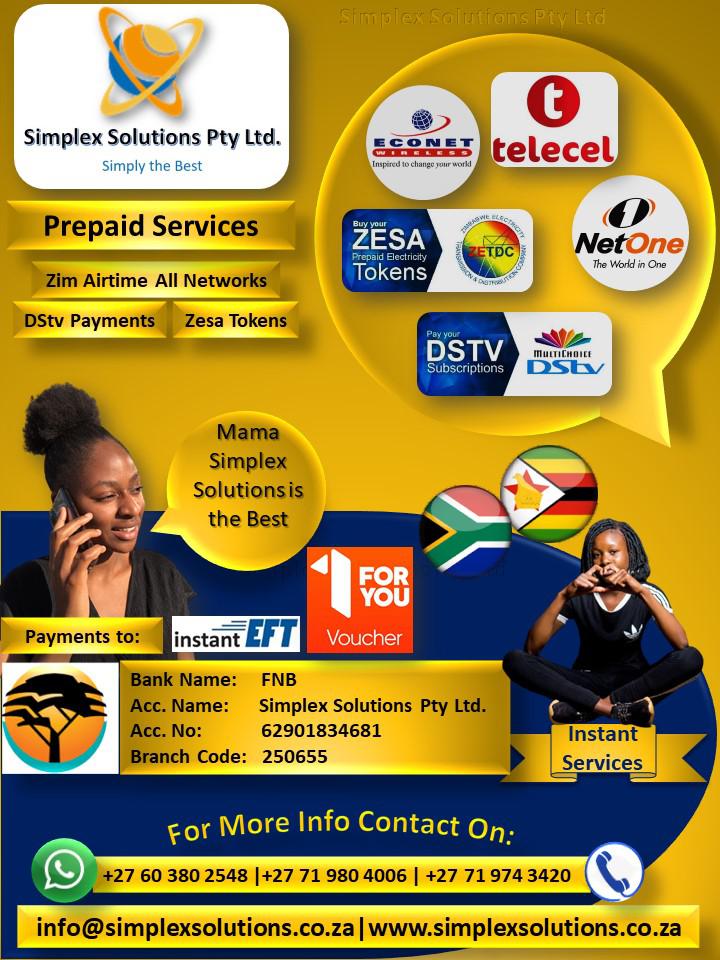 We aim to satisfy our clients and making it easy for every Zimbo residing in S.A. to support their families and friends back home in Zimbabwe.
We sell *Zesa Prepaid Tokens, Direct Recharge Airtime & Data for all mobile networks in Zim and also DStv payment subscriptions.
We are available to help you anytime 24/7
WhatsApp Simplex Solutions (Pty) Ltd anytime and get the help you need.
You are welcome to choose our most common payment options
Payment Options platforms are available below:
1. Instant EFT into our:
FNB Business Account: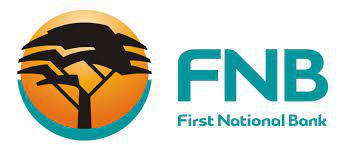 Simplex Solutions (Pty) Ltd
Account Number: 62901834681
Branch: 250655
2. Ewallet or instant money, cash send
3. 1foryou voucher / 1 Voucher.
After doing the payment, please send proof of payment along with the Zim Cell number of your recipient in Zimbabwe.
As for Zesa tokens, please send your proof of payment along with the Zesa Prepaid Meter number and cell number of the person who will be receiving the electricity token code.
As soon as you send proof of payment and the required information your loved ones will receive their airtime or electricity tokens at that same time.
On Dstv subscription payments, you send your proof of payment, DStv acc number, and your account will be paid at that same time, it's that easy.
1foryou voucher is available at any Retail outlets like Shoprite, Checkers Pep, Boxer, Spazza Shops, or any other shop that have a flash vendor machine.
Points to note for the transaction to be instant you will need to follow the above guides lines as well as the following:
EFT: Transactions if from the different banks must be made instantly if not that will cause delays as we would want to verify before we can perform any transaction.
Ewallets: if not from FNB we recommend you do an instant EFT or Options 1Foryou Voucher.
Please don't hesitate to ask any questions, we are here to assist in any way we can.
Contact +27 60 380 2548
+27 71 980 4006
+27 71 974 3420
Email :: info@simplexsolutions.co.za
Web :: www.simplexsolutions.co.za
Thank you
#ZimAirtime #ZesaTokens #ZimPrepaidServices #TelecelAirtime #Net0neAirtime #Econetbundles #ZimServices #Simplexsolutionsptyltd #Kumusha #instanttopupairtimetozim #SupportSmallBusiness #supportlocalbusiness
---